(Last Updated On: July 25, 2010)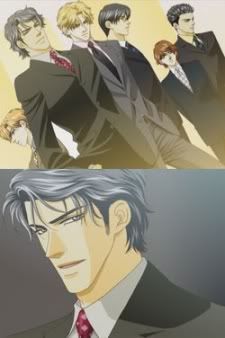 Date aired:
May 28, 2010 to
Genre:
Yaoi, Romance, Comedy
Type:
OVA
Synopsis:
(From MyAnimeList)
When Haruka Fujinami starts his job at Yebisu Graphics he takes an immediate dislike to his tyrannical boss, Mr. Daijou. Haruka is given the most menial tasks imaginable and is subjected to Daijou's verbal abuses as well, but oddly enough, he learns that his attraction to his boss grows with each new humiliation. Will Haruka finally stand up to Daijou and assert himself, or will he completely surrender his body and soul to the tall, dark stranger?
This is not any regular anime, it is called manga animation…
Which means it's a mix of manga and some light animation thrown in with the usual anime's voice acting and sound, and in Yebisu Celebrities' case… it has the exact same artwork and even conversation from the manga. So it will be nothing new if you already read the manga, but for people who haven't read the manga or know about the manga before this (like me), then you may be in for some lite treat of yaoi here, with some cuteness thrown in. Visually, it will remind you of a BL game!