(Last Updated On: March 20, 2009)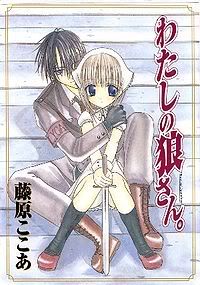 Watashi no Ookami-san translated as My Wolf in english is written by Cocoa Fujiwara. In the second volume, it has the story "Other Side of the Lycanthrope" where the focus is the other characters. There are also side stories in this series.
This is one funny story. That is the strongest point of this manga. The story may not be unique but it's still interesting. The Demon Lord is the powerful type yet he's bored being the Mau. Also, Komomo is your average heroine who's poor and not so strong but perseeres a lot. This series tells more about the relationship of Demon Lord and Komomo. it doesn't explain the backgrounds of the main characters. The characters are also cute though the drawing is just simple.
I recommend to try reading its sequel Dear to know more about the story and the characters as well.