(Last Updated On: October 6, 2009)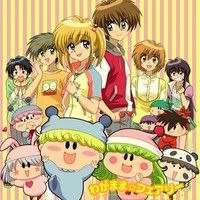 Other Titles: Mirmo!
Mirmo Zibang!
Date Aired: 06.04.2002 till 27.09.2003
TV Network: TV Tokyo
No. of Episodes: 78 eps
Genre:Shoujo, Fantasy, Adventure, School Life, Romance, Comedy
Sypnosis:
Kaede went to a shop and bought a blue mug. She noticed that there is an engraved note which says "If you read this message aloud while pouring hot cocoa into the mug, a love fairy ("muglox") will appear and grant your every wish." She wished that she will be in the same class as her crush, Yuki. Then, Mirmo appears saying that he's a love fairy from Muglox world. Now, Katie's life will about to change.
Cast:
Etsuko Kozakura as Mirumo
Mai Nakahara as Kaede Minami
Mayuko Omimura as Rirumu
Hiroshi Naka as Marumo (Mirmo's Family)
Izumi Kikuchi as Saria (Mirmo's Family)
Kazusa Murai as Yamane
Masako Nozawa as Kinta
Motoko Kumai as Sasuke
Noriko Shitaya as
Hanzo
Umezono Momo
Rie Kugimiya as Murumo
Souichiro Hoshi as Kaoru Matsutake
Sources:
Official Site
ANN
Anidb