(Last Updated On: October 6, 2009)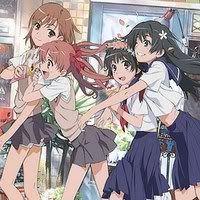 Title: A Certain Scientific Railgun
Date aired: 03.10.2009 till ?
TV network: AT-X
No. of episodes: ???
Genre: Action, Sci-fi, Comedy
Synopsis:

The setting is in the very advanced place known as the Academy City where about 80% of its 230,000 citizens are students. The story is about the adventures of Misaka Mikoto, a level five student and her friends to bring peace to the city.
Cast:
Rina Satou as Mikoto Misaka
Aki Toyosaki as Kazari Uiharu
Atsushi Abe as Tōma Kamijō
Kanae Itō as Ruiko Saten
Minako Kotobuki as Mitsuko Konkō
Satomi Arai as Kuroko Shirai
Sources:
Official Site
ANN
Anidb