(Last Updated On: June 28, 2009)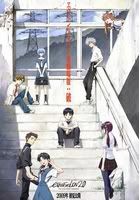 The second movie of Evangelion have showed a teaser for the third movie. It will be entitled, Evangelion Shin Gekijōban: Q quickening.
As quoted from ANN:
The teaser at the end of the Evangelion:2.0 You Can (Not) Advance (Evangelion Shin Gekijōban: Ha) film has revealed on Saturday that the next Evangelion film will be titled Evangelion Shin Gekijōban: Q quickening. The next film's full English title has yet to be given. Director Hideaki Anno and his Khara anime studio are remaking Gainax's Neon Genesis Evangelion science-fiction television anime series into four theatrical films. The "Q" or "Kyū" in the third film's title is a wordplay in Japanese; the first three films' subtitles are the names for the three classical movements (Jo-Ha-Kyū or Introduction-Exposition-Climax) of traditional Japanese music such as gagaku and Noh.
Fans must be delighted with this news. ^_^