(Last Updated On: April 15, 2010)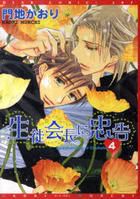 English Title: Hey Class President!
Genre: Yaoi, School Life, Comedy, Romance
Mangaka: Kaori Monchi
Volume/s: 4
Magazine (serialized in): Dear+
Publisher: Shinshokan
The Student Council's Vice President Chiga-kun has been wondering why he was chosen by the President as the Vice President. Moreover, he is wondering why was an ordinary guy like Kokusai ever became the President when he won the election by popularity. Being always near Kokusai, he noticed that many perverts come near the President and then gropes him. He's having a feeling that he should protect Kokusai from those perverts. Find out what will happen between the seducing Chiga and the simple-minded Kokusai.