(Last Updated On: October 6, 2009)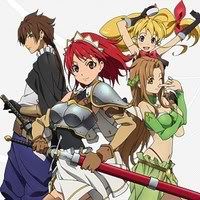 Title: The Sacred Blacksmith
Date aired: 03.10.2009 till ?

TV network: AT-X
No. of episodes: ???
Genre: Adventure, Fantasy

Synopsis:
Cecily Cambell is the daughter of a former knight. When her father died, she vowed to be part of the Knight Guards. On her first battle, she met a mysterious guy whose sword can slash another sword. After the battle, her sword was broken and she sought a blacksmith who can make her repair her sword. The mysterious guy she met is also the blacksmith that she is looking for. Thus, the start of their adventure.
Cast:
Ayumi Fujimura as Cecily Campbell
Nobuhiko Okamoto as Luke Ainsworth
Aki Toyosaki as Lisa
Hideki Tasaka as Reginald Drummond
Kazuhiko Inoue as Hugo Housman
Megumi Toyoguchi as Aria
Michiru Yuimoto as Patty Baldwin
Ryotaro Okiayu as Siegfried
Yousuke Akimoto as Hannibal Quasar
Sources:
Official Site
ANN
Anidb