(Last Updated On: April 12, 2009)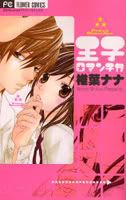 English Title: Prince Romantica
Mangaka: Shiiba Nana
Genre: Shoujo, Romance, One-shot
Publisher: Shogakukan
Magazine: Betsucomi
Pure Erotica (1st story)
When she was in middle school, Rika's first love only left her with emotional scar. Now, she learned about her first love's weakness. It's payback time..
Romance Summit Principle (2nd story)
The neat and lovely princess, and the elegant and kind campus prince are dating. Seems like a perfect couple right? But the thing is, they're only acting. What will happen if people will found out that their relationship is fake? What will the princess do if she's also slowly falling for the prince?
My girlfriend is Romeo (3rd story)
Asai Seiya is an invincible prince in their school. Until Ryou threatened his position. She looks like a prince and the only girl that doesn't seem interested on him. His solution is to make her fall for him.!
Prince, Kiss and Sleeping Beauty (4th story)
Shiya asked the school's prince Yuki to cure her phobia. Her phobia is whenever a guy touches her, she faints. Yuki was challenged when Shiya said that she doesn't like him and decided to cure her. What will be the cure of her phobia.?