(Last Updated On: May 17, 2009)
Eiichiro Oda himself confirmed that the supervisor of this new One Piece movie will be him, and he will check everything concerning its production, from the story to its release, extimated for the 12 December in japanese cinemas. Together with him will work to the movie also Munehisa Sakai, the actual director of the One Piece anime!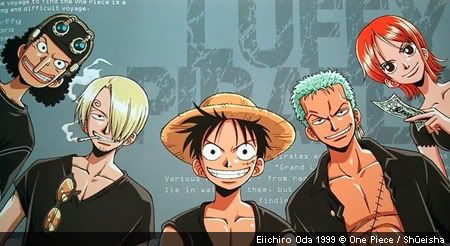 The movie, even if it isn't known well what the plot will talk about (probably it will be centred on Nami), will have an absolute original story. We only know what the movie title will be, that is "One Piece – Strong World". Moreover, on Monday, some of the preparatory drawings of the movie have been already published on the magazine Shueisha Weekly Shonen Jump (Eiichiro Oda sketched so far 120 pages of drawings). Between these, in the magazine we can find also the image of the swordsman Zoro bringing a bazooka! Unfortunately I didn't get this image yet, but if I will be able to find it I'll put it immediately!
Moreover, according to the results of the magazine, Oda insered his name in the movie credts for showing his will to have a movie different from the previous ones.
source: Nanoda