(Last Updated On: November 2, 2016)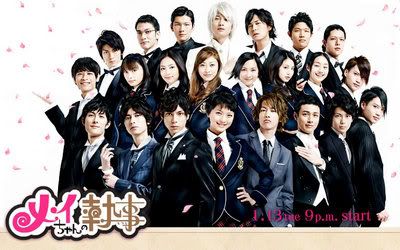 I was browsing mysoju.com a while ago and was so shocked to see this series. You see, a couple of weeks ago I saw the manga version of the same title and decided to put it on my reading list. Then, now I encountered the live-action of it.  I am completely unaware of this drama series. If I'll have a time, then I might give this a chance..
Here's information from DramaWiki:
Details
Title: メイちゃんの執事
Title (romaji): Mei-chan no Shitsuji
Also known as: Mei-chan's Butler
Format: Renzoku
Genre: Romance, comedy
Broadcast network: Fuji TV
Broadcast period: 2009-Jan-13 start
Air time: Tuesday 21:00
Theme song: My SunShine by ROCK`A´TRENCH
Synopsis
The story revolves around a young woman named Mei, who was rescued as a young girl by someone calling himself her "butler." With only a vague memory, though, the experience seems like just a dream. But one day, after her parents' accidental death, he appears: Rihito comes from a line of outstanding butlers, and he has been appointed to serve her! Now her ordinary life has completely flipped, as she discovers that she's actually the heiress to a fortune, and is forced to transfer to St. Lucia Girls' Academy, where all the students have butlers! As a result, her childhood friend Kento decides to enroll in a butler school so that he can stay close to her.
CAST
Shadow (Ombra) Rank
Eikura Nana as Shinonome Mei (M)
Mizushima Hiro as Shibata Rihito (B)
Tanimura Mitsuki as Yamada Tami (M)

Abe Shinnosuke

(阿部進之介) as Kanda (B)