(Last Updated On: July 17, 2009)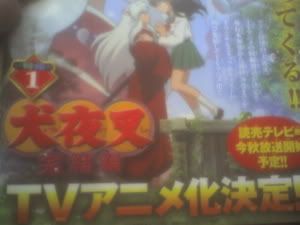 This is another season of an anime that I'll surely won't miss. One of the reasons why this year's Fall Season will be something to look forward to.

Quote from ANN:
This year's 34th issue of Shogakukan's Weekly Shonen Sunday magazine will announce next Wednesday that an Inuyasha Kanketsu-hen (Inuyasha Final Chapter) television adaptation of Rumiko Takahashi's manga has been green-lit. The anime will broadcast on Japan's YTV this fall and cover the story in volumes 36 to 56 of the manga — the final 21 compiled book volumes. The original staff and cast will reunite for the new anime adaptation.