(Last Updated On: August 30, 2009)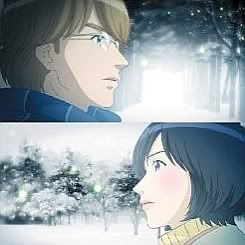 Quoted from Anime Nation:
The official website for the upcoming Anime Fuyu no Sonata television series has added an assortment of streaming trailers. The anime is an adaptation of the popular 2002 Korean live action romantic drama Winter Sonata (Gyeoul Yeonga). Original actors Bae Yong Jun and Choi Ji Woo will reprise their roles from the live action drama in the anime adaptation, so it does look like the series will air on Japanese television with Korean dialogue and Japanese subtitles. The anime series will premiere on October 17.
First, I thought that it will be shown in this year Spring season. Then, it was moved to Summer. Now, it will be finally in the Fall list. ^_^