(Last Updated On: December 20, 2009)
Just some updates..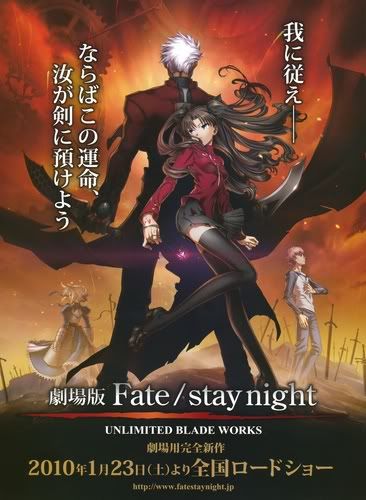 I love this pic. It suits Archer well. You can also see Saber and Shirou on the background.
Gekijouban Fate/Stay Night: Unlimited Blade Works
23.01.2010
Another thing is this:
Fate/Stay Night TV Reproduction
OVA, 2 episodes
22.01.2010
To coincide with the January theatrical release of the Fate/stay night: Unlimited Blade Works anime motion picture, the 2005 TV series will be condensed into a pair of hour long Fate/stay night TV Reproduction specials released on Japanese DVD and Blu-ray on January 22. Each special will condense half of the 24 episode TV series and reportedly include limited new animation. The "Reproduction I" OVA will also feature a newly recorded version of the series' original opening theme, set to a new opening animation footage. Both OVAs will feature new, previously unheard ending theme songs.
Source(s):
Anidb – Unlimited Works
Anidb – OVA